The Langham
The Langham, London – an iconic landmark steeped in history. Having opened its doors in 1865, Europe's first 'Grand Hotel' has since welcomed a plethora of prominent figures: Winston Churchill, Oscar Wilde and Diana Princess of Wales (to name a few). Now… it was my turn!
It was a hotel that I'd frequently marvelled at from the confines of the Starbucks opposite – although I'd never been fortunate enough to venture inside. Once I'd finished admiring the style and sophistication of the exterior, I made my way round to reception.
Beyond the revolving doors and charming porters, the scene was exactly as I'd imagined. Soaring ceilings were accompanied by magnificent marble columns, lavish chandeliers and tastefully decorated Christmas trees. Far from being excessive, the lobby area oozed elegance and class. If a member of staff hadn't quickly approached me, it is quite possible that I'd still be there now, gawking at the splendour.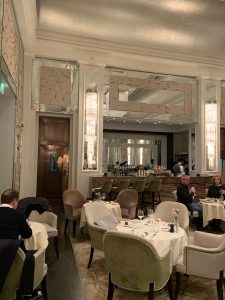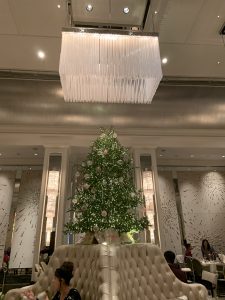 My tour with the wonderfully hospitable Diego then began at the centrepiece of the hotel: Palm Court. The famed birthplace (no less!) of the quintessential British tradition – afternoon tea. Owing to the plush velvet seating, layered lighting, and live pianist, the atmosphere in this room was civilised and undeniably charming. I wasn't at all surprised to learn that this venue had earned the accolade for best afternoon tea in 2018.
From here, we headed to the world renowned Artesian bar – named after the hotel's original 360ft well. While the room was more compact than I'd envisaged, this did nothing but enhance the feeling of exclusivity. It was a glamorous space, filled with glamorous people, drinking glamorous cocktails. But be warned, the prices are as premium as the beverages!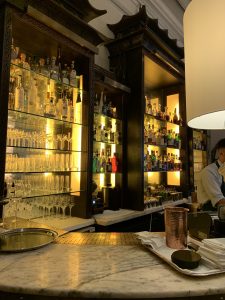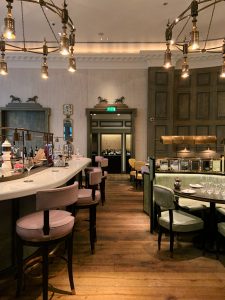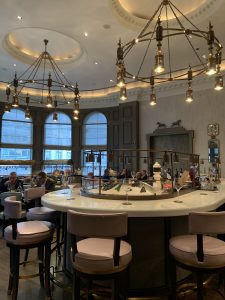 A drink at the swanky Artesian bar (I'm informed) is best followed by a bite to eat at Roux at The Landau. This grand period room was bright and inviting, complete with subtle accents of green and blush, a magnificent curved wall of windows, and an eye-catching centre counter. Here, guests are able to enjoy a contemporary take on European dishes under the watchful eye of head-chef Andrew Turner.
Although, if fine dining isn't your cup of tea, The Wigmore is a fantastic alternative. Once an old banking hall, this self proclaimed 'upmarket traditional pub' designed by Martin Brudnizki offers a more informal setting. But forget sticky table tops and the abominable smell of stale beer, this local boozer features vaulted green ceilings, art deco chandeliers and a gourmet menu.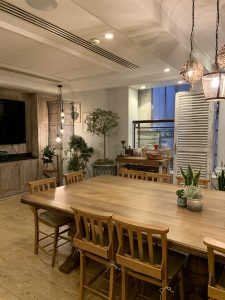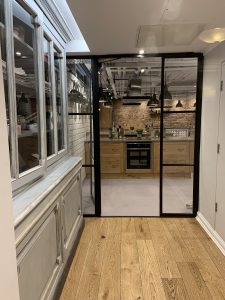 It is worth noting here that The Langham also caters for those looking to cook up their own storm. Following recent renovation, The Langham now provides a culinary school service playfully named 'Sauce,' where visitors are given the chance to learn the tricks of the trade.
Is there anything this hotel doesn't have to offer?
Having made it through the vast array of dining options, it was time to head to the guest-rooms. It quickly transpired that the grandeur extended far beyond the communal areas of the hotel. Of the 380 rooms and suites at the Langham, I was lucky enough to snoop around 2 – a superior room, followed by the breathtaking Sterling Suite. While they differed in size, their effortless elegance was undoubtedly comparable.
Having entered the superior room, I was immediately drawn to the meticulous blend of classic and contemporary. The opulent decor tastefully aligned with the hotel's charming heritage, without feeling out-dated. Large windows welcomed generous amounts of natural light, which drew attention to the calming colour scheme, deluxe furnishings, and sleek light fixtures. Although not overly spacious, the room offered a blissful bed, an ample desk area, a delightful marble bathroom, and all the modern amenities a guest could expect. All in all, it seemed to be a perfectly sumptuous space to relax after a day in the city – whether that be for business or leisure.
I don't know what I was expecting next, but it's safe to say that any expectations I did have were certainly exceeded. At 450 sqm, The Langham's Sterling Suite is one of London's largest (and most expensive!) hotel suites, with 6 guest-rooms at full capacity. While this suite is worthy of a blogpost in itself, I've done my best to keep this concise (the pictures very much speak for themselves anyway!).
Beyond the entrance foyer of the suite is a magnificent drawing room with stunning recessed ceilings and an abundance of custom-made furnishings. Alongside the gold-accented furniture and draping floor length curtains, the room also boasts hand-blown Murano glass light fixtures, a delightful marble fireplace, and a grand piano – but don't worry if you can't play, the in-house pianist is one short call away.
Although I only saw the master bedroom, it was exquisite nonetheless. Much alike the drawing room, the  furniture was beautifully bespoke, and the ambiance peaceful and serene. The hand painted oriental panels edged with gold leaf, spacious seating area, and oak parquet flooring all aided the rooms palatial feel. As well as a large dressing area, the most exquisite marble bathroom accompanied this bedroom. Throughout, the suite was adorned with stunningly understated, neutral colours. But beyond the interior design, the suite's 5* facilities extend to a 24 hour personal butler service.
While I hope I managed to convince Diego that I wasn't completely out of my depth, the truth is I'd never seen anything even slightly comparable. If you happen to have a spare £24,000 knocking about, I couldn't recommend the Sterling Suite more.
It is without doubt that The Langham offers top-notch accommodation. The rooms exude a distinct residential ambiance, and effectively retain their history while offering contemporary services also. No matter which room category you opt for, you'll certainly be impressed – but be sure to avoid room 333 (I'll leave you to Google that).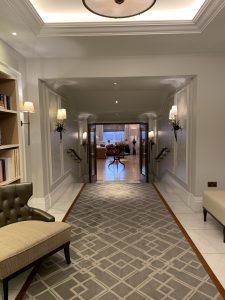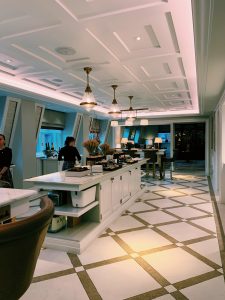 For those who book Executive rooms and above, access to The Langham Club with its exclusive lounge, complimentary breakfast and free-flowing champagne is an assured bonus.
Just as I thought this hotel couldn't  get any better, I was then ushered to the impressive underground wellness sanctuary. Among other delights, The Body + Soul Spa and Health Club offers six treatment rooms, a fully equipped gym, and a 16-metre pool built into the original bank vault in the depths of the building. At this stage, I'll be truly disappointed if I haven't convinced you it's worth a visit.
Begrudgingly, it was then time to say goodbye. If one thing's for sure, if you're looking for luxury in central London, it doesn't get much better than The Langham.