No.5 Maddox Street
As an accommodation agency, we take great pleasure in visiting the hotels we frequently recommend to our clients. Back in November, I was fortunate enough to enjoy a private tour around the newly renovated Bartlett Suite at No.5 Maddox Street, followed by The Langham. Here's how my day went…
After an unsurprisingly delayed commute in late November, I arrived in sunny central London. Keen not to dwell on the disastrous journey, I dropped by Joe and the Juice before heading to my first stop of the day – a set of 12 luxury serviced apartments covertly nestled behind the lively Regents Street.
The apartments at No.5 Maddox Street are accessed by an unassuming, unmarked doorway – amplifying the impression of a perfectly concealed metropolis hideaway. Although, it's discretion did temporarily leave me questioning if I'd turned up at the wrong place – it was only once I'd spotted the tell-tale pavement plaque that I stopped panicking and headed inside.
While I was not immediately greeted by the dramatic marble pillars and cascading chandeliers you'd usually expect in the lobby of London's 5 star hotels, No.5 was opulent and serene all the same. When the door closed, the noise and clamour of London quite literally dissipated – as if I'd been suddenly transported a million miles away from the bustling city. I followed the staircase up to the relatively compact reception area, where I was soon welcomed by Fatou and her lovely team. It was time to have a nose around the recently renovated three-bedroom, two-bathroom Bartlett Suite – but not before we enjoyed coffee and canapés (of course!).
On first impression, I was struck by the size of the apartment. In this kind of location, you'd be forgiven for expecting the rooms to be tiny, carefully crafted to squeeze in as much accommodation as possible. Yet the space was ample and airy, elegantly decorated with warm, earthy tones which effortlessly generated a relaxing environment. Large windows flooded the bedrooms with light, while triple glazing effectively blocked outside noise.
A chic en-suite with trendy subway tiles and rainforest shower accompanied the master bedroom, while the slightly smaller third bedroom benefitted from a private outdoor seating area. Throughout, the attention to detail was unmistakable – the natural bamboo flooring, luxury bed linen and Ren toiletries assisted in giving the apartment an all-encompassing 5 star feel.
The brightness continued through to the open plan kitchen/dining/living area at the opposing end of the corridor. White walls coincided with tasteful touches of design, from the freestanding Tom Dixon spiral light to the luxe coffee table photography books. Yet practicality had not been sacrificed at the expense of the delightful decor. The velvet 3-seater sofa and glass dining table were stylish and functional in equal measure. A sizeable desk area, wall mounted smart TV and Marshall Bluetooth speaker demonstrated that the needs of both business and leisure travellers had been carefully considered.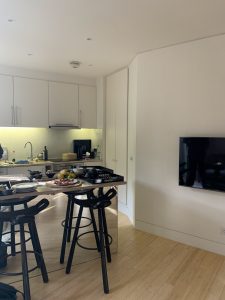 Although not overly spacious, the kitchen with mirrored breakfast bar was equally as chic and fully equipped with NEFF appliances to simplify self-catering. I was even made aware that staff would fill the cupboards with Whole Foods groceries upon request. Although, if your talents don't quite extend to the kitchen like me, there certainly isn't a shortage of dining options nearby. The iconic restaurant Bob Bob Ricard with 'push for champagne' table buttons is a mere 7-minute walk away FYI.
If I wasn't already convinced that the Bartlett Suite was a tranquil city-centre oasis, it was soon confirmed when I stepped out into the private courtyard. Complete with table and chairs, it was a blissful spot to enjoy your morning coffee – living like a true Mayfair local (albeit rather temporarily).
To summarise, No.5 offers a refreshing alternative to the traditional luxury hotel. Best described as a welcoming home away from home, it provides guests with an idyllic base from which to explore the city. The 12 apartments, with a committed 24hr concierge team, successfully cater for the needs of individuals, couples and groups, while simultaneously suiting business/leisure travellers and short/long-term rental. In spite of its somewhat mature feel, No.5 is highly accommodating of families also.
In short, it was of no surprise that No.5 Maddox Street is so popular among our Penguin London clients.
Having finished the tour, I later took advantage of the enviable location and popped into nearby Liberty, followed by the plethora of boutique shops surrounding Carnaby Street (be rude not to, right?). Although, I did swiftly remind myself that I was in fact here to work. Next time, maybe. It was then time to embark on the short walk to my second destination, The Langham.